Debunking Fallacies About China's IPR Practices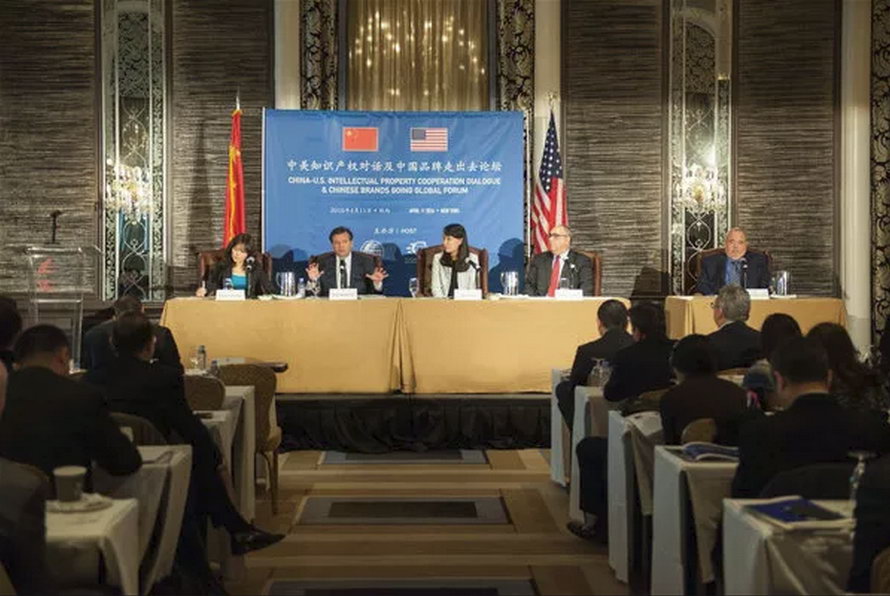 By slamming tariffs on US$ 34 billion worth of Chinese goods on July 6, the U.S. officially started a trade war against China. Unfounded accusations of China's "theft" of U.S. technologies and patents constitute a major basis for launching the trade skirmish.
A recently released report by the White House Office of Trade and Manufacturing Policy, blatantly entitled "How China's Economic Aggression Threatens the Technologies and Intellectual Property of the United States and the World," even listed visiting Chinese scholars and students' utilization of open resources and participation in scientific meetings as part of their technological espionage. This is ridiculous, showing just how lame and baseless their accusations against China are. The report bombastically denigrated China's intellectual property rights (IPR) protection, purporting that China has leveraged its "market access approval" and "government supervision" to force technological transfers, being totally blind to China's improving legal system on IPR protection and the increasingly better business environment for foreign companies. It's time to equip bigoted China-bashers with knowledge about China's latest progress on the IPR protection and give our readers a full picture on the issue.
"After all, the China market grows more compelling by the day, drawing more and more companies into the discussion, and China does change. What is true today may not be true tomorrow," current affairs commentator Jack Perkowski observed in an article in Forbes. William Weightman, a 2017-18 Fulbright Fellow, shared the same developmental perspective with Perkowski in his recent article "China's Progress on Intellectual Property Rights (Yes, Really)" published by The Diplomat. Weightman probed the stereotypical bias about China's IPR protection as many U.S. companies still buy the story that as the world's factory China churns out low-quality manufactured goods, and imitates products and business models from abroad and the country is a land of copycats "with no respect for intellectual property rights." "This, of course, is not accurate," Weightman pointed out in the article. He indicated, "China has become increasingly innovative and has demonstrated serious resolve to enforce an effective IPR regime."
In fact, foreign firms fare quite well in protecting their IPRs. A 2016 study by Brian Love with Santa Clara University School of Law showed that between 2006 and 2011, foreign companies brought over 10 percent of patent infringement cases in China and won over 70 percent of those cases. Today, win rates are up to 80 percent. These also explain why China has been frequently selected as the forum of choice for non-Chinese companies to litigate IP disputes.
As many Chinese companies intend to venture globally and high-tech innovation- centric activities are being greatly encouraged and booming at home, domestic demands for effective IP protection are also soaring, which has propelled the improvement of the country's IPR protection legal system and enforcement.
In his keynote speech delivered at the opening of the Boao Forum for Asia Annual Conference 2018, President Xi Jinping pointed out, "Stronger IPR protection is the requirement of foreign enterprises, and even more so of Chinese enterprises." Xi indicated that China was reinstituting the State Intellectual Property Office to strengthen the ranks of its officers, step up law enforcement, significantly raise the cost for offenders and fully unlock the deterrent effect of relevant laws.
According to the white paper "China and the World Trade Organization" released by the State Council Information Office, since its accession to the WTO in 2001, China has formulated and improved its laws and regulations on IPR protection, set up IPR working mechanisms with many countries, and built an IPR legal system that conforms to WTO rules and suits the national conditions of China. The white paper listed, "The amended Trademark Law sets up a system of punitive damages. The amended Anti-Unfair Competition Law improves the protection of trade secrets, identifies act of confusion, and expands and enhances the scope of IP protection through a myriad of additions. Currently China is working on amending the Patent Law and the Copyright Law." China has set up three IPR courts in Beijing, Shanghai, and Guangzhou, and special judicial organs at 15 intermediate courts across the country to handle cross-regional IPR cases, including those related to patents.
Notable results have been attained by China in IPR protection. Since 2001, intellectual property royalties paid by China to foreign copyright holders has registered an annual growth of 17 percent, reaching US$ 28.6 billion in 2017. The same year also saw China receive 1.382 million invention patent applications, ranking the first in the world for the seventh consecutive year. According to the World Intellectual Property Organization, 51,000 patent applications filed from China through the Patent Cooperation Treaty were accepted in 2017, second only to the US.
General director of the State Intellectual Property Office of China Shen Changyu declared in a forum in April that the country's relentless efforts to improve its IPR protection has lifted the public satisfaction rate for China's IPR protection to the score of 76 in 2017 from 63 in 2012. However, while going global, many Chinese firms have suffered IPR infringement or been limited by IP barriers from fair competition. Therefore, at the Boao Forum for Asia, President Xi also called on foreign governments to improve protection of Chinese IPR.
Findings of both the Section 301 of the Trade Act of 1974 investigation into China's practices in technology transfer, intellectual property, innovation, and the recently released report by the White House Office of Trade and Manufacturing Policy castigated "Made in China 2025," a domestic strategy aiming to upgrade China's manufacturing. Does a country's domestic development plan need to be subject to the scrutiny of a foreign government for approval? Is there anything wrong with a country that desires to develop its economy by formulating a plan and enriching its people? It's a brazen interference in China's domestic affairs and baseless accusations on China's rightful practices.
However, behind the facade of unjustifiable investigations and blatant ignorance of the WTO multilateral trading system, we can clearly discern the Trump administration's strategic fear of China. Confined by their zero-sum game and lingering Cold War mentality, they cannot bear to see a rising China gain the edge on many fronts of global industrial development, and fail to see that win-win cooperation is their way out. The United States, the established power of the world, driven by hegemonism, is trying to bend anyone who might challenge its internationally dominant position by resorting to protectionism and isolationism.
However economic globalization is an irreversible trend and the multilateral trading system is valued by the majority of the international community. A trade war will do nobody any good. "There are no winners in a trade war," William Zarit, chairman of the U.S. Chamber of Commerce in China, in a statement published right before the U.S. tariffs took effect.
"Trump's soundest argument in his election campaign was that he would not waste American lives and treasure in pointless wars of choice," Adam Posen, the president of the Peterson Institute for International Economics, said in March in an op-ed article. "His launching a trade war would prove, however, to be his economic Afghanistan — costly, open-ended, and fruitless."
The Washington Post and the Schar School of Policy and Government at George Mason University conducted a poll, trying to learn how people feel about Trump's tariffs against China, which has triggered China's retaliatory tariffs on U.S. goods. 56 percent of voters thought the situation would adversely influence U.S. jobs, and 73 percent of them worried about the trade war's impact on them, i.e. the rising cost of living.
As a lot of U.S. media reports noted that many farmers and manufacturers who were once staunch supporters of Trump, are seeing their faith falter as the punitive tariffs took effect because they are already feeling the impact of reduced market access and higher costs.