In Shakespeare's Romeo and Juliet, Romeo misses critical information when the messenger gets stuck in quarantine. Fr. Laurence in Verona wanted to send him a secret message about a secret plan to reunite with Juliet and live happily ever after, but Friar John carrying the message gets stuck in quarantine due to an outbreak of the plague. Modern supply chains cross international borders with more intricacy than a Shakespeare plot. They are disrupted when epidemics break out. The world was always interconnected, but the scale and speed at which it moves today is unlike anything in history. Containing COVID-19 is one thing. Dealing with multiplying economic shocks is another.
For international companies operating in China, getting back to work is vital to keeping their own plans on track. Shipping a product is easier than sending a person, but people remain the most important factor. COVID-19 does not survive longer than a few hours on a package, but it can incubate for two weeks (or more) in a person before showing any sign of its presence. One of the greatest struggles in an epidemic is getting healthy workers back to work. No workers, no products. No products, no money. No money, no economy. In the short term, companies want to take care of their workers, but they must earn money to pay salaries. In the long term, staying in business prevents the tenfold or hundredfold consequences of an economic crash. For this, local governments and foreign companies work together.
American companies Beckett Asia Pacific (BAP), Boeing and Honeywell, and Swiss company Nestle were recently interviewed by China Pictorial about resuming operations during the COVID-19 outbreak. They reported confidence in moving forward and outlined measures to protect their workers. Two themes that repeated in every company's response were close cooperation with local authorities and close collaboration between management and staff to upgrade health and safety practices.
Resumption of Operations and Support for Wuhan
BAP's factory is located in Daxing District, Beijing, China. BAP is a wholly American-owned subsidiary of the R. W. Beckett Corporation, and its Daxing plant manufactures electronic control boards for gas and oil burners for the U.S. market, with annual revenues of US$10 million. It also supports sales of its own heating equipment for the Chinese market. Although they had no previous institutional experience dealing with a public health emergency like the COVID-19 outbreak, cooperation with the local government and careful study of public reports enabled them to have appropriate safety measures in place upon their February 10 resumption of operations.
Everything was ready before the factory reopened. The management studied news reports and formed a virus fighting group and analyzed the roles and responsibilities of every employee. All employees were trained on extra steps to sanitize their workplaces, custodial procedures were enhanced, and professional cleaners are brought in weekly. Normal work safety only needed marginal enhancement. Because BAP workers assemble electronics, they normally wear anti-static gloves and masks to keep out dust. Their normal gear was simply switched out for antiviral replacements, and special disposal procedures were put in place.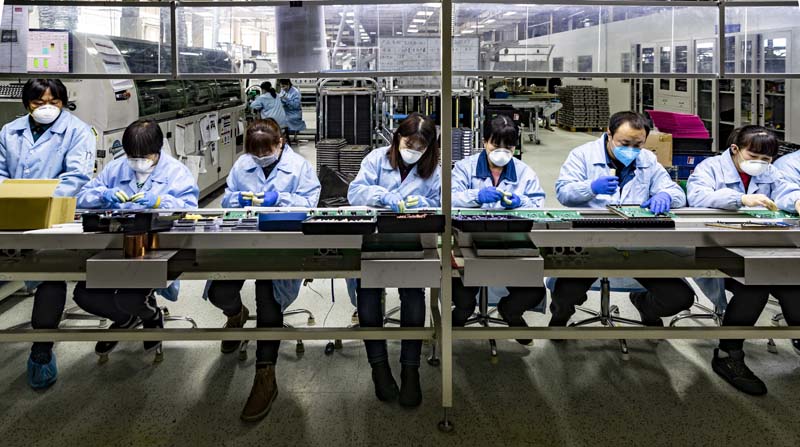 Employees' temperatures are self-reported in a WeChat group prior to arrival in the morning, checked as they enter the factory, and checked twice over the course of the workday. All temperature and symptom data is collected and entered into a spreadsheet file and sent to local authorities, who track the symptoms of each employee to catch any case of infection early for an appropriate medical response. Lunch breaks are broken up into three 20-minuite shifts, in which employees follow a seating chart, sitting a meter apart from each other in the cafeteria.
According to Sunny Sang, CFO and Director of General Administration, the most important safety elements are communication and people management. Colin Ji, the company's Director of Engineering, Supply Chain, and EHS (Environment, Health, and Safety), described the three to five yearly training sessions the local government provided for EHS personnel to highlight the company's readiness to cooperate with local authorities on epidemic control. They use available international connections to keep their workers supplied with safety equipment. General Manager Nick Sykes, in America during the epidemic due to cuts in travel connections, sourced 5,000 face masks for the factory.
In addition to providing for their own workers, BAP is also working to aid China in fighting the virus. Sykes' family adopted a girl from Wuhan in November 2019. When the epidemic broke out there, he worked with the China Center for Children's Welfare and Adoption (CCCWA) to send 24,000 N95 respirators to over 30 child welfare institutions and associated elderly care institutions in Wuhan and other places in China. While sourcing supplies for BAP operations, he was able to work with the CCCWA to send direly needed protective supplies.
BAP is going as far as possible by its normal playbook to meet the demands of this situation. Employees such as IT personnel who cannot return to the office but who can work from home do so. The factory's location in southern Beijing complicates the situation for workers who live in nearby Hebei Province. One employee has a Wuhan ID card, and so had to go through 14 days of quarantine to return to his Hebei residence, then had to do another 14 days of quarantine to go back to work in Beijing. About 70 percent of the BAP factory's workforce lives in Beijing, so their administrative situation is much simpler.
Some suppliers in China have not yet resumed operations and some have not yet communicated with BAP, but the company knows most of what it will have to produce in the next year. Good communication between BAP and its customers has helped them adjust the production schedule. The Daxing factory can move up work on some orders and delay other orders while they wait. The coronavirus situation has not yet fully impacted BAP's customers downstream. Because some customers in America had stocked up on inventory due to trade friction, they were able to continue normal operations.
Sykes reported that he knows of two or three companies that have exercised force majeure clauses in their contracts because of the coronavirus situation, but BAP has not yet had to do so. There is a delay of two to four weeks for some orders to be shipped to America, but Sykes anticipates full resumption of operations with all suppliers coming back online by mid to late March. BAP has supplies to keep working throughout most of the year and does not anticipate needing to engage in layoffs or unpaid furloughs.
Perseverance and Resilience
Boeing Tianjin Composites Co., Ltd. (BTC), a joint venture between The Boeing Company and Aviation Industry Corporation of China (AVIC), has a plant in the city of Tianjin. The joint venture was founded nearly 20 years ago and is the city's largest employer in the aviation sector, employing more than 1,100. They manufacture about 13,000 composite parts for all of Boeing's commercial airplane models. BTC was founded in 2001, so it was in place to deal with the 2003 SARS outbreak. As home to some of the most highly skilled technological manufacturing jobs in Tianjin, their investment in the city draws them into the fight against COVID-19 and highlights their long-term commitment to China.
Daniel Park, General Manager at BTC, reported that they have been gradually resuming operations since February 9, 2020. As of February 26, 85 percent of employees were back to work. In cooperation with local authorities, BTC is implementing a "robust health and safety plan that protects all employees and visitors to BTC." For employees confined due to the situation, the company has set up online training or allowed them to work from home. All employees who are unable to return to work because of quarantine or inability to get to work continue to receive salary and benefits.
Park shared a 19-page document detailing intricate guidelines developed in partnership with government authorities for the protection of workers' health and safety. Detailed instructions cover rules for workers onsite and at home. They cover who should be quarantined, the wearing and disposal of masks, handwashing, riding company buses, temperature checks, and detailed sterilization procedures for company vehicles, workstations, and other office locations. During mealtimes, the company's cafeteria introduced single-use dining containers and a "no-chatting" rule. Workers must eat 1.5 meters apart. Company management is in regular contact with the local government to ensure compliance with regulations and prompt care for employees who may fall sick.
For ongoing operations, Park reported that all parts produced in the Tianjin plant will eventually be shipped to Boeing factories in the United States. They are in contact with both their direct and indirect suppliers to monitor potential interruptions to the supply chain. They have yet to see disruptions and have backup plans in place should anything arise. They are not "setting any timetable or deadlines on when to resume fully staffed operations." Employee health and safety is the "number one priority" and they will take their next steps based on "the careful analysis of our local leadership and all relevant Chinese government officials and experts."
The COVID-19 outbreak is one among many challenges that BTC has faced in its operations in China, and Park emphasized the "character of perseverance and resilience" the company has forged. They will tackle present difficulties and return to normal as soon as possible. Park stated that he was impressed by measures taken by the local government to fight the epidemic and care for the sick. "China is resolute in protecting her people leading the battle against this virus. We have strong confidence that it is just a matter of time before China and the rest of the world will win this war (on the virus)."
Beyond efforts on behalf of its own employees, Boeing donated 250,000 masks to Wuhan, Hubei Province, and Zhoushan, Zhejiang Province. Park reported that Boeing airplanes provide the majority of China's air cargo capacity, and these are critical to daily deliveries of vital supplies to areas affected by COVID-19.
Power of "Made in China"
Honeywell is ready for the fight against COVID-19. It is a Fortune 100 technology company with its Asia-Pacific headquarters in Shanghai. The company's 50 wholly owned enterprises in China represent all of Honeywell's strategic business groups: Aerospace, Honeywell Building Technologies, Performance Materials and Technologies, and Safety and Productivity Solutions. They employ about 11,000 people in over 30 cities, 20 percent of their workforce being scientists and engineers. Honeywell is fully committed to the country, even down to having a special "Honeywell Hometown Solutions" program to give back to local communities.
Lu Chunhua, Director of Corporate Communications at Honeywell, provided information on the company's efforts to resume operations during the COVID-19 outbreak, support the fight against the virus, and move forward with confidence in China. The company has both enacted safety measures to protect worker health and contributed equipment and supplies directly to the fight against the epidemic. Cooperation with the government and compliance with health and safety regulations have been cornerstones of Honeywell's strategy.
Measures the company has taken at its facilities include requiring employees to wear masks while traveling to and from work, temperature checks, provision of masks for all of Honeywell's sites in China, and procedures for tracking business travel. In Honeywell's Suzhou plant, eating arrangements in the cafeteria involve cardboard dividers between employees to block coughs or sneezes. One unique method Honeywell implemented is a QR code system for logging employee presence at its facilities, making data quickly available for health and safety oversight.
Beyond ensuring the safety of its own workers, Honeywell has (as of February 11) donated a total of US$2 million in equipment to aid the fight against the coronavirus. On a more basic level, the company donated 500,000 N95 masks for Wuhan. More specialized donations included air purifiers and fire and security systems for hospitals. A total of 3,000 Honeywell air purifiers were delivered to hospitals across Hubei Province. The company sent 20 engineers and supported about 10 construction subcontractors to make an accelerated installation of fire and security systems for the Xi'an Public Health Clinical Center.
Honeywell expressed a confident outlook for the rest of the business year in China. As they have restarted work after Spring Festival in accordance with government rules and regulations, as of February 11, 18 of 21 manufacturing plants had fully resumed manufacturing and three had partially resumed. The company believes in the power of "Made in China" and in the resilience of China's economy. Having a China history that goes all the way back to 1935, the company has a historically tested commitment to the value of doing business in this country and today it represents eight percent of Honeywell's global sales of US$36.7 billion. China's not going anywhere, Honeywell's not going anywhere, and this virus will be just one more point in the continuing story.
Sustained Availability
Lillian Liao, representative of international food and beverage corporation Nestle, reported that the spread of the coronavirus "has required extraordinary effort from our team in China." The Greater China region (including the Chinese mainland, Hong Kong and Macao special administrative regions, and Taiwan) is their second-largest market, representing eight percent of its global sales. She emphasized the company's focus on protecting the health and safety of its employees and their families. Nestle is implementing protective measures at all of its facilities in China. Closely cooperating with local authorities, the company is building on its "significant experience and expertise on the ground." Nestle is striving to ensure the availability of its food and beverage products, "particularly for the most vulnerable, the youngest and the oldest in society." While it was too early for Nestle to quantify the financial impact of the outbreak, the company expressed solidarity with the people of China and a commitment to continued engagement with the Chinese market.
Moving Forward
In Romeo and Juliet, a single missed message led to a tragic supply chain disruption in the production of a happy ending. Modern communication allows supply chains to go all the way around the world. Colleagues in one place advise colleagues in another place, and everyone works together to minimize disruptions. In previous crises, companies on opposite sides of the world would wait for months or years to learn of the success or failure of a single stage of long-term efforts. Today, it is possible to fight an epidemic with one hand and arrange small business details around the world with the other. As companies and governments work together to stay in business, it gives the whole world a chance for a happy ending.
The fight to contain and cure COVID-19 is not yet over. Companies getting back to work are like farmers who continue working even in time of war: soldiers must eat to continue fighting, but farmers keep working because everyone must eat when peace is restored. Some companies are adjusting their operations to produce medical supplies to help fight COVID-19, and so they are staying in business and keeping people employed. Other companies are simply carrying on with business, because normal life continues during and after the COVID-19 situation. Seeing normal life continue despite the epidemic is encouraging.
In the BAP facility in Beijing's Daxing District, I watched several workers on break playing soccer outside the factory. Seeing some guys kicking a ball around (while wearing face masks!) was a sign of life forcing its way through the epidemic gloom. COVID-19 demands that everyone be more careful and restrained, smothering normal ways of having fun. Real fun is normally unremarkable. In this case, it was a light shining in the darkness.