Sustaining Economic Growth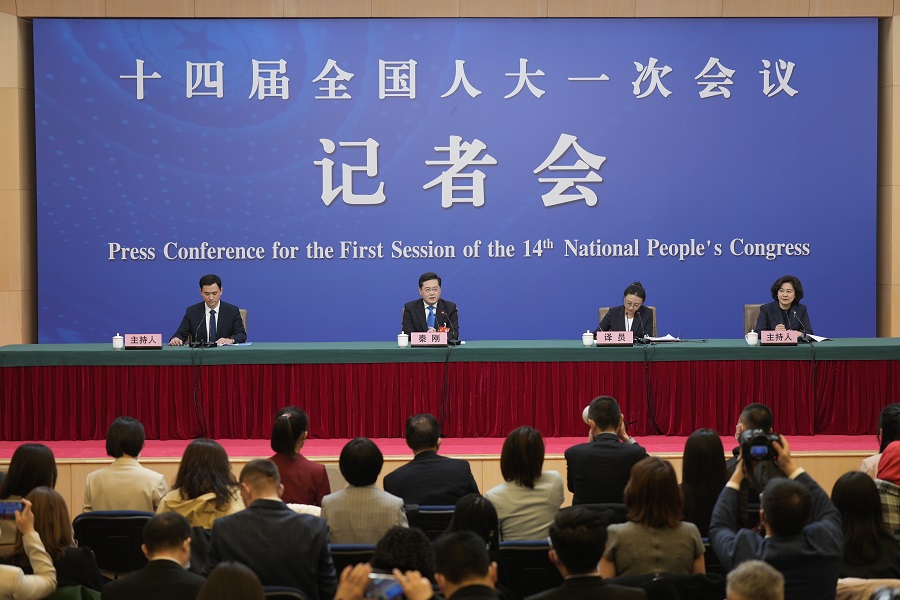 China has made remarkable strides in social and economic development in recent decades, sustaining economic growth. However, China's model of economic development has sometimes led to a growing trade surplus and overcapacity in certain industries due to reliance on exports and investment. To address these challenges, China is focusing on a new development model that prioritizes quality over quantity. The "dual circulation" strategy refers to an economic development model centered on domestic development, with domestic and international development reinforcing each other. In the coming years, China's economic growth is expected to be fueled by this new development model. It will also assist China in addressing some of its structural economic imbalances such as regional disparities and income inequality.
China launched the Belt and Road Initiative (BRI) in 2013 as a massive infrastructure and investment project connecting Asia, Europe, and Africa. Since then, the initiative has become a significant factor in China's global economic and technological influence and a vital component of the nation's strategy for external circulation. Over the past decade, the BRI has galvanized nearly US$1 trillion of investment and launched more than 3,000 cooperation projects, creating over 420,000 jobs throughout the region and lifting nearly 40 million people out of poverty. The BRI is a pragmatic and inclusive initiative based on the principles of extensive consultation, joint contribution, and shared benefits. This year, China will host the Belt and Road Forum for International Cooperation for the third time.
The China-Pakistan Economic Corridor (CPEC) is a major transportation and infrastructure project connecting Pakistan, China, and their neighbors. The CPEC involves free trade zones, transportation infrastructure, energy production, and special economic zones and aims to increase economic cooperation between China and Pakistan while providing substantial benefits to neighboring nations. The CPEC is regarded as a flagship project of the BRI. Since its inception in 2015, the CPEC has made consistent progress in the form of several completed projects including construction of Gwadar Port and the Karakoram Highway. Ongoing projects include the Main Line-1 railway and the Lahore-Multan motorway. The CPEC aims to connect Gwadar Port to Khunjerab Pass via pipelines, roads, and railways across 3,000 kilometers with investment of over US$60 billion, which would boost trade throughout Pakistan. The project has the potential to transform Pakistan's economy by creating jobs, reducing transportation costs, and enhancing connectivity with China and other countries.
Pakistan is also following China's ongoing Two Sessions closely. The Two Sessions refer to the annual meetings of the National People's Congress (NPC) and the Chinese People's Political Consultative Conference (CPPCC) National Committee. The NPC, China's highest legislative body, is expected to pass significant economic, environmental, and social laws and policies. The CPPCC National Committee, the country's top political advisory body, is tasked with providing suggestions and feedback on policy matters.
Topics discussed at the Two Sessions included economic growth, rural revitalization, and environmental protection. China set its GDP growth target for 2023 at around 5 percent, lower than the target for the previous year. This showed China shifting emphasis to high-quality development and sustainable growth. The government also announced measures to improve the rural standard of living. The session of the CPPCC National Committee discussed environmental protection and sustainability. It called for reduction of carbon emissions, improvement of air quality, and promotion of green development. Education, healthcare, and social security were also discussed at the Two Sessions, with emphasis on enhancing public services and social welfare.
At a press conference on March 7, Chinese Foreign Minister Qin Gang expounded on China's foreign policy and external relations. He emphasized the significance of defending China's core interests, promoting multilateralism, and adhering to the guiding principle of "diplomacy for the people." He also emphasized China's dedication to openness and development, its rejection of "decoupling" and unilateral sanctions, and its support for an inclusive and open global economy.
The Two Sessions demonstrated China's commitment to promoting sustainable development and improving the lives of its citizens. The government's emphasis on environmental protection and social welfare showcased its commitment to achieving balanced, inclusive growth while maintaining national unity and sovereignty.
The author is a Pakistani expert on the Belt and Road Initiative.