Talk with World Leaders on China
By
Fu Xiaotian
Published by
China Intercontinental Press, June 2017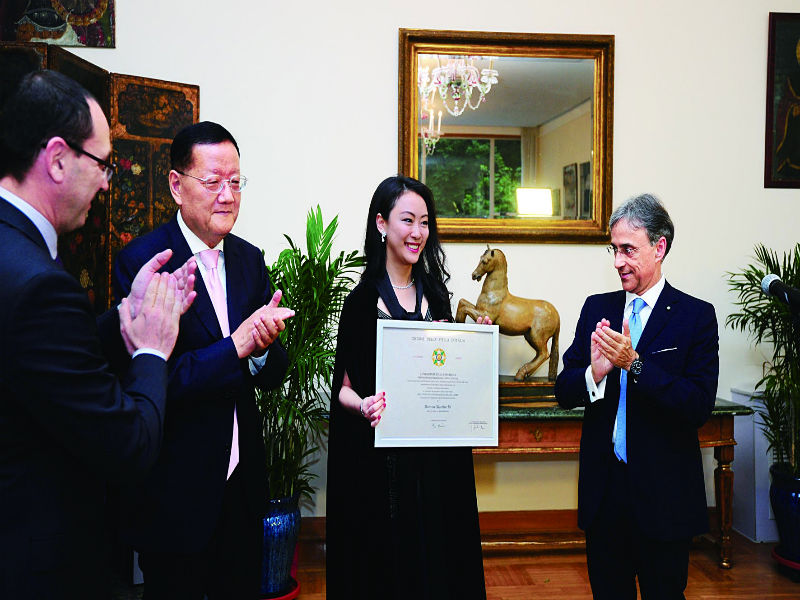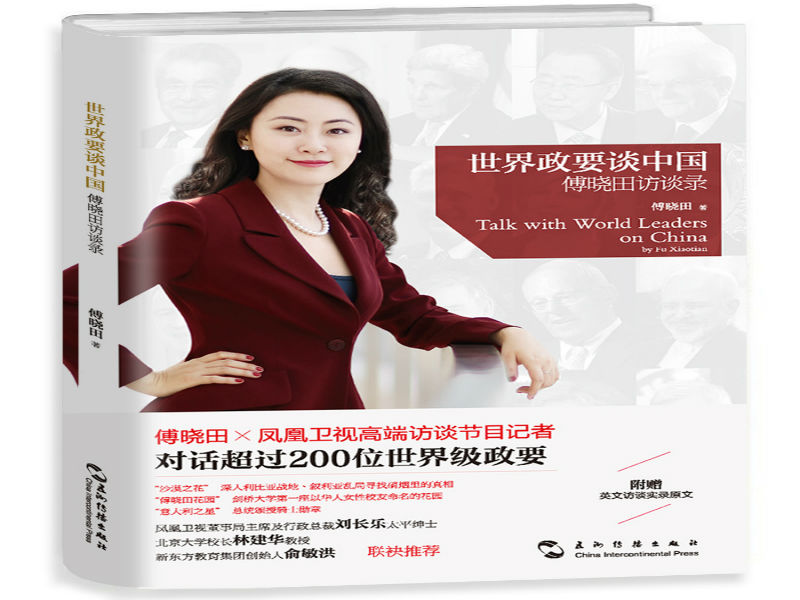 "Talk with the World Leaders" is a serious talk show on the Phoenix Satellite Television featuring interviews of political heavyweights from around the world. In late June, hostess Fu Xiaotian published Talk with World Leaders on China, based on her experience with the show. She selected 20 interviews with various world leaders from early 2014 to early 2017 to trace China's development through stories from the perspectives of the interviewees.
An alumna of the University of Cambridge, Fu formerly served as London bureau chief for Phoenix. She excelled at inspiring interviewees to answer complicated questions with simple language and viewers to think differently by asking tough questions with ease and grace, brief and to the point.
For the book, she selected interviews with distinctive figures who have developed long-term relationships with China, including former UN Secretary-General Ban Ki-moon, former Italian Prime Minister Matteo Renzi, Syrian President Bashar al-Assad, Iranian Foreign Minister Muhammad Javad Zarif, former British Prime Minister Gordon Brown, and former U.S. Secretary of State John Kerry, among others. The author edited transcripts to remove outdated material and place more focus on the ideas and concepts that remain greatly relevant today.
The author presents readers with information on politics, political wisdom and diplomatic maneuvering. For example, a large part is devoted to a talk with Iranian Foreign Minister Muhammad Javad Zarif on the Iranian nuclear agreement signed between Iran and six countries including the United States, Britain, France, Russia, China, and Germany. The book also collects relevant talks on the investigation of Malaysian Airlines Flight 370 that were never broadcast from her interview with Malaysian Prime Minister Najib Razak. Another core topic is the relationship between the United States and Russia and China, which was discussed by John Kerry.
The author endeavors to navigate multiple layers of information including the art of leadership against different cultural backgrounds, contrasting global outlooks and the values promoted by each religion and civilization as well as cross-cultural communication. For instance, during her interview with Iranian Foreign Minister Muhammad Javad Zarif in 2015, Fu mentioned her interview with John Kerry after she noticed that the minister's foot was wrapped in gauze. "Kerry broke his leg riding a bicycle soon after our meeting," she noted. "This time I see something has already happened to your foot."
Zarif comfortably and naturally talked about Kerry's injury before pivoting to their negotiations on the Iranian nuclear issue in Switzerland. The silky smooth transition was expertly engineered by Fu. Zarif went on to comment further on the U.S. interests in the Middle East after the ice was broken.
When asked about "perfectly symmetrical bicameralism" in the eyes of Italians during an exclusive interview in 2016, then Italian Prime Minister Matteo Renzi replied with Chinese flavor: "It's not perfect, as I've jokingly explained using a popular Chinese sport. Bicameralism sometimes can be like a Ping-Pong match, with the ball moving from one side to another side, one side to another side."
Of course, all of the interviews evidence China's progress and dramatic changes from the perspectives of world leaders and cover a wide array of subjects closely related to China such as the Belt and Road Initiative, the relationship between China and the EU, Russia and Britain, and cooperation between China and the United Nations.
As described in the preface, "China is playing an unprecedented role in the world arena thanks to its economic development, growing national strength, and implementation of new foreign policies featuring Chinese characteristics. The world is listening to China, a listener to the world. Happenings around the world have bestowed our program and the book the most fertile soil."