The Chinese Economy: A Bullish Outlook for 2018
The World Bank raised its China 2017 economic growth forecast from a projected 6.7 percent in October to 6.8 percent in its China Economic Update on December 19, 2017. The past year also saw the International Monetary Fund and the Asian Development Bank raising their outlook for China's economic growth several times, which indicates global optimism about the Chinese economy.
In 2017, by deepening supply-side structural reform, China achieved impressive results in cutting industrial overcapacity, de-stocking, de-leveraging, lowering corporate costs, and bolstering areas of weakness: China's annual targets for cutting capacity in steel and coal industries were surpassed, commercial housing for sale and corporate debt ratio continued to decrease, taxes and fees were cut by more than one trillion yuan (US$152.1 billion), and investment in weak sectors increased heavily.
The continuing reform helps the Chinese economy remain stable and generates greater momentum for growth. In 2017, the Chinese economy improved its quality and effectiveness and became more vigorous, as new businesses and new industries became stronger. These changes laid a solid groundwork for China's long-term growth.
With its massive scale as the world's second largest economy, China achieved steady growth in 2017 despite pressure brought by economic structure transformation and upgradation. In the first three quarters of 2017, the Chinese economy grew by 6.9 percent year-on-year, about 0.4 percentage points higher than its target. The third quarter saw China's GDP grow by 6.8 percent. The growth rate has remained between 6.7 percent and 6.9 percent for nine consecutive quarters.
From January to November 2017, 12.8 million new urban jobs were created in China, 310,000 more than the same period in 2016. Meanwhile, the Consumer Price Index rose 1.5 percent year-on-year, within the target of about 3 percent. For the first three quarters in 2017, per capita disposable income in China rose by 7.5 percent year-on-year after deducting the price factor, which is higher than GDP growth rate.
China's imports and exports both maintained double-digit growth, realizing a basic balance in international payments. From January to November 2017, goods trade rose by 15.6 percent compared to the same period in 2016, of which imports rose by 11.6 percent and exports 20.9 percent. China's foreign exchange reserves exceeded US$3.1 trillion at the end of November after rising for ten straight months.
The global economic recovery since the beginning of 2017 provided a favorable external environment for China to develop its economy, while China has lived up to its reputation as the engine and stabilizer of world economic growth. The United Nations recently reported that China contributed about one third of global economic growth in 2017. Over the past five years, China has contributed over 30 percent of world economic growth, topping all other countries.
The Belt and Road Initiative proposed by China has gained extensive support from the international community. An increasing number of countries and regions are taking part in the construction of the Belt and Road to develop their own economy. Over the next 15 years, China will continue to enlarge its market. Analysts estimate that China will import goods worth US$24 trillion, absorb foreign direct investment of US$2 trillion and invest US$2 trillion abroad.
The annual Central Economic Work Conference held in Beijing from December 18 to 20, 2017 drew a blueprint for China's economic work for 2018 based on the current economic situation. Socialism with Chinese characteristics entering a new era is heralding a new chapter for the Chinese economy as it transitions from high-speed growth to high-quality development. The Chinese economy is expected to show new vitality and maintain stable growth in 2018.
In this issue, China Pictorial looks back at China in 2017 through the stories of those who influenced the nation and even the world, as well as the most creative technologies, art trends, and ideas that emerged in the past year, so as to showcase China's social transformation.
China Law Society Leading Group for Drafting Civil Code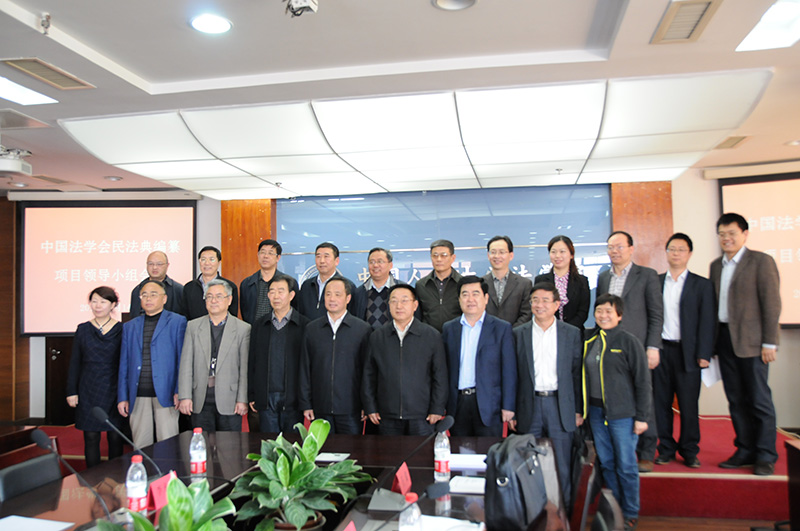 In March 2017, the National People's Congress (NPC), China's top legislature, passed the General Provisions of the Civil Law that took effect on October 1. It signaled that China has completed the first step of a two-step approach to develop its civil code. The remaining chapters of the civil code are planned to be submitted to the NPC for deliberation in 2018. The development of the comprehensive civil code is expected to be completed by 2020.
In 2015, China launched the drafting of the civil code, which was headed by the Legislative Affairs Commission of the NPC and supplemented by the Supreme People's Court, the Supreme People's Procuratorate, the Legal Affairs Office of the State Council, the Chinese Academy of Social Sciences, the China Law Society and other organizations. The China Law Society, the official organization of the Chinese legal academic profession, founded the Leading Group for Drafting Civil Code, and submitted drafts of the General Provisions of the Civil Law to the Legislative Affairs Commission of the NPC for reference. The group is headed by Zhang Mingqi, vice president of the China Law Society. According to Zhang, the General Provisions of the Civil Law functions as the guidelines of the civil code, and development of the civil code is a critical step for China to comprehensively advance the rule of law and build a country of socialist rule of law.
Liu Shiyu: President of China Securities Regulatory Commission
Following the principle of strict governance based on law in 2017, the China Securities Regulatory Commission (CSRC) made efforts to prevent systemic risks and lead the capital market to better serve the real economy. With the capital market stabilized and risk averted, the CSRC promoted normalization of initial public offerings (IPOs) to build a multi-tiered capital market. As a result, China led most countries around the world in IPO numbers and financing scale in 2017. So far, the Shanghai and Shenzhen Stock Exchanges have listed nearly 3,500 enterprises, and the New Three Board (China's share transfer system for small and medium-sized companies) facilitates trading of more than 11,600 companies. In addition, shares of 21,000-plus enterprises are traded on 40 regional equity markets.
In 2018, Chinese regulators will continue to facilitate the regulatory system that ensures the country's capital market will remain healthy and orderly. The capital market is expected to expand, improve in quality and promote bilateral opening. According to Liu, the CSRC aims to better integrate China's capital market into national development strategies and better serve the real economy, with increased direct financing and healthy growth of the multi-tiered capital market.
"Reform, stability and development must be comprehensively coordinated."
Lam Cheng Yuet-ngor: Hong Kong's First Female Leader
Lam Cheng Yuet-ngor took office as the fifth Chief Executive and the first female head of the Hong Kong Special Administrative Region (HKSAR) on July 1, 2017 as Hong Kong marked the 20th anniversary of its return to China. At the inaugural ceremony, Lam declared, "I will fulfill my responsibilities as a Chief Executive and resolutely do everything within my ability to implement the 'One Country, Two Systems' principle, uphold the Basic Law of the HKSAR and defend the rule of law."
Lam also noted that she would promote industries in which Hong Kong maintains traditional advantages, strengthen innovation and development of technological and creative industries, inject vitality into the economy, and create quality job opportunities for citizens, especially young people.
"My vision is that everyone living in Hong Kong feels hopeful, happy and confident that Hong Kong is home to justice, law-based governance and fine manners, and Hong Kong is a safe, prosperous, merciful, well-governed and promising international metropolis."
Jin Qi: Silk Road Funder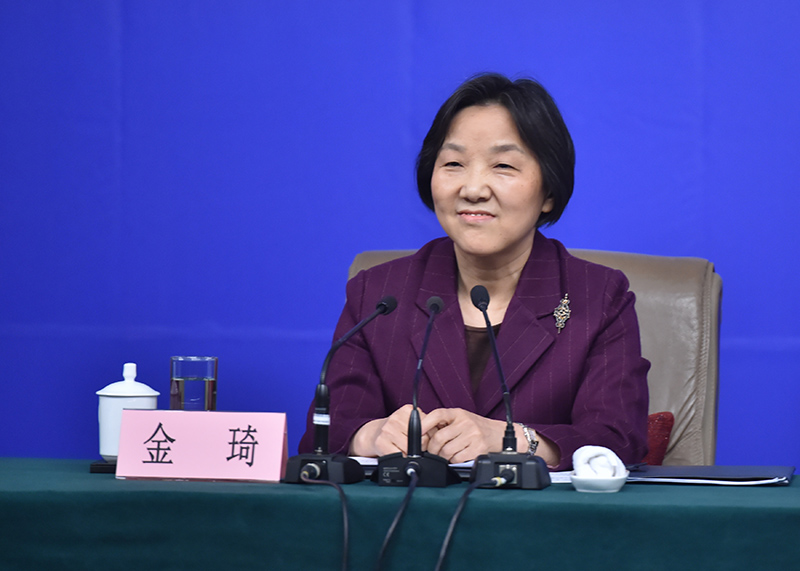 Launched at the end of 2014 with an initial capital injection of US$10 billion, the Silk Road Fund has supported infrastructure construction, resource development and industrial and financial cooperation along the Belt and Road routes. Among various forms of the investments, equity investment is the most prominent. The Fund attaches particular importance to middle- and long-term projects that can produce economic profits, social benefits and industrial value.
Chinese President Xi Jinping declared that China would contribute an additional 100 billion yuan (US$15.3 billion) to the Fund at the Belt and Road Forum for International Cooperation in May 2017. So far, the Fund has committed investments of about US$7 billion to the 17 signed projects that cumulatively have total investments of US$80 billion. Jin Qi, chair of the Silk Road Fund, said she hoped to strengthen cooperation with multiple international funding bodies and mobilize international capital to construct the Belt and Road.
"We should employ developmental finance, make better use of equity investment and explore innovative mechanisms for complementary and win-win financing."
Wang Xiaochu: Mixed-ownership Reformer
China Unicom disclosed a plan to raise 78 billion yuan (US$12 billion) from strategic investors in August 2017, becoming the first centrally-administered state-owned enterprise to carry out mixed-ownership reform at the group level. The state-owned parent company saw its stake in China Unicom's arm listed in the Shanghai Stock Exchange shrink from 62.7 percent to 36.7 percent, and strategic investors including China Life Insurance, Tencent Holdings Ltd., Baidu Inc., JD.com and Alibaba Group Holdings Ltd. gained 35.2 percent combined. Additionally, core employees, about three percent of China Unicom's staff, are expected to hold shares.
This is a critical breakthrough for China's state-owned enterprise reform. China Unicom has become a pilot project for transition from partial reform to integral reform. According to Wang Xiaochu, chairman of China Unicom, the reform has diversified state-owned shares of the company and the corporate governance structure is no longer dominated by a single party, which ensures the benefits for small shareholders. Wang believes that through the moves the company has become more market-oriented.
"The change may seem small, but it is in fact a huge leap forward for centrally-administered state-owned enterprises."
Jack Ma: Building the Alibaba Economy
Jack Ma founded Alibaba 18 years ago, which integrated offline retail sales into e-commerce in a big way. In 2017, Ma promoted his "new retail" model featuring artificial intelligence, aiming to restructure China's entire retail market. Moreover, through expansions involving Ant Financial, Alibaba Cloud, Cainiao Network and others, Alibaba has evolved into an ecological system more than simply an e-commerce platform. It is also expanding overseas via the electronic World Trade Platform. In October 2017, Ma announced the founding of the Academy for Discovery, Adventure, Momentum and Outlook (DAMO Academy), in which he has planned to invest an estimated 100 billion yuan (US$15.3 billion) over the next three years to foster fundamental scientific research and disruptive technology.
Aiming to expand to the size equal to that of the world's fifth largest economy by 2036, according to Ma, Alibaba hopes to create 100 million new jobs, serve two billion consumers and use its platform to help ten million small and medium-sized enterprises generate profits.
"We want to enable more developing countries, small and medium-sized enterprises and young people to share the fruits of free trade and globalization and enjoy business creation, innovation and technological advancement."
Liu Qiangdong: Relieving Poverty with E-commerce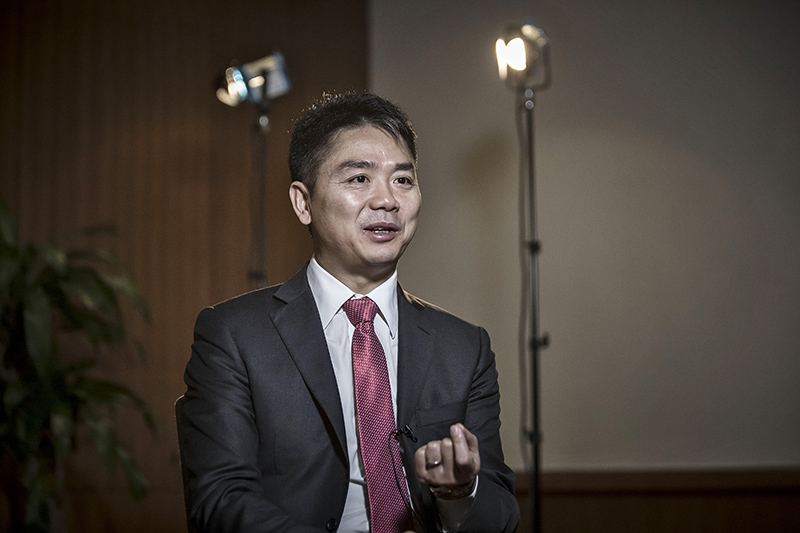 Liu Qiangdong, chairman and CEO of JD.com, became honorary chief of Pingshitou Village in northern China's Hebei Province in November 2017. Of all the 655 villagers, 123 were documented as living under the poverty line. Liu declared that he would help lift them out of poverty within three years.
Under his leadership, JD.com, China's second largest e-commerce platform, has taken targeted measures to alleviate poverty through e-commerce in recent years. Leveraging its heavy traffic, well-built distribution channels and financing power, the company aims to industrialize sales of agricultural products from poverty-stricken rural areas. JD.com sells local products directly, helps villagers launch online stores on its platform and facilitates crowdfunding for them. The company has worked with over 6,000 enterprises in 832 state-level poor counties, generating sales of agricultural goods of 20 billion yuan (US$3.1 billion).
"I hope more businesspeople will get engaged in poverty relief after seeing the fruits of my efforts. We can work together to improve the livelihood of more people. This is how to fulfill entrepreneurs' social responsibility and pay back our nation and society."
Lei Jun: Bouncing Back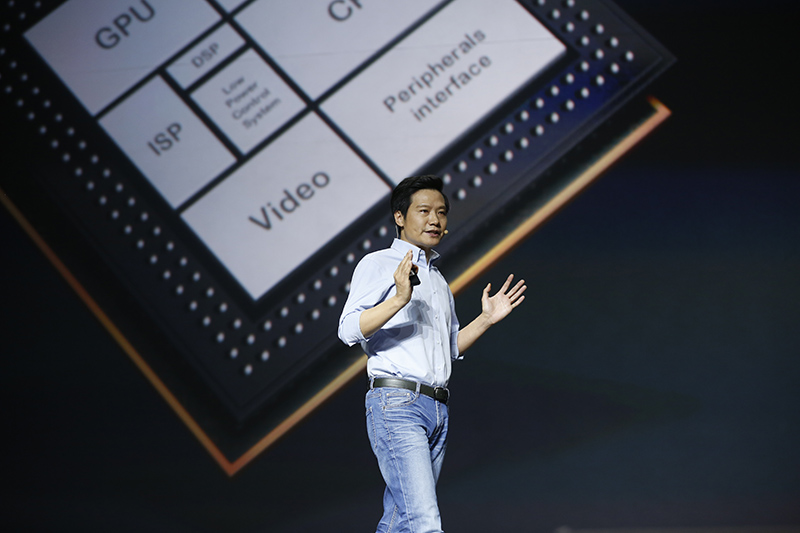 As its sales slumped in 2016, Xiaomi was elbowed out of the world's top five smartphone makers by OPPO and VIVO. To turn his ship around, Lei Jun, founder, chairman and CEO of Xiaomi Inc., took direct charge of product development and supply chain management to integrate manufacturing, distributing and marketing of Xiaomi smartphones. The company picked up the pace in 2017 and completed its goal of shipping 70 million smartphones ahead of schedule. The company's revenue exceeded 100 billion yuan (US$15.3 billion) from January to October 2017, as its retail outlets and ecological chain grew. Besides smartphones, portable batteries, electronic cookers, and smart wristbands were also among Xiaomi's best sellers.
Xiaomi also tapped into overseas markets. For instance, it became the most popular smartphone brand in India in the third quarter of 2017, with its market share rising to 23.5 percent. According to Lei, Xiaomi has entered 60 countries and now targets Western Europe and North America.
"No mobile phone maker had ever reversed plummeting sales, except for Xiaomi."
Martin Lau: Top CEO of a Public Company
Topping Forbes China's list of Best Chief Executive Officers of Chinese listed companies published in July 2017 and ranked among the world's 50 most influential people by Bloomberg in December, Martin Lau is becoming well-known throughout the world. At Chinese internet giant Tencent, Pony Ma, chairman of the Board of Directors, oversees the general direction of the company while Lau, the chief strategist, manages daily operations.
Tencent's core product WeChat, a mobile app that integrates multiple functions including messaging and payments, has gained more than 900 million daily active users. Other Tencent products have also found room in everyday Chinese life. To fulfill Tencent's ambitions for overseas markets, Lau has made impressive investments such as buying a five percent stake in U.S. electric car maker Tesla with US$1.8 billion, acquiring a 12 percent stake in Snap, the parent company of Snapchat, and purchasing an 84 percent stake in the Finnish mobile game maker Supercell.
"Going global is no easy task for any Chinese enterprise."
Liu Qingfeng: Brain Builder
For 17 years, Liu Qingfeng, chairman and CEO of iFLYTEK, has continued his mission to "let machines hear, speak, understand and predict," leading the company to promote the research and industrialization of speech and artificial intelligence (AI) core technology. The speech synthesis system developed by iFLYTEK has won 12 consecutive championships at the Blizzard Challenge, the most influential international speech synthesis contest.
In 2017, iFLYTEK's ecological system for AI took shape as its business expanded through sectors including education, finance, medical services, electric home appliances and smartphones. So far, the company has occupied 70 percent of the Chinese voice recognition market, and the number of users of the iFLYTEK voice cloud has exceeded 890 million. More than 460,000 startup teams have utilized its AIUI open platform, which was launched in 2015 to provide developers with technical support in voice recognition, voice synthesis and voiceprints.
"In five to ten years, AI will be as common as water and electricity and used in almost every industry."