Zhao Qizheng:Stories about Pudong and China
Text by
Yu Jia and Zhang Xue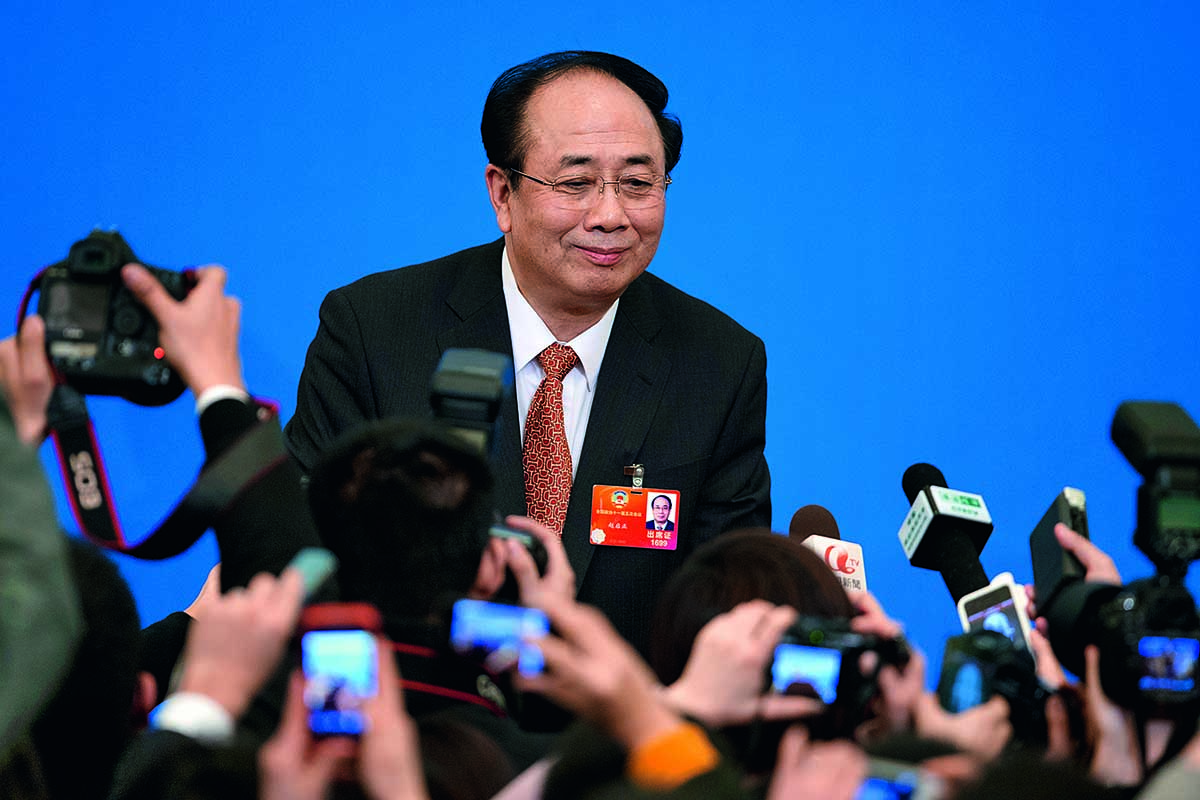 Zhao Qizheng enjoys many dazzling titles: nuclear physics expert taught by renowned physicists, Pudong miracle creator nicknamed "Pudong Zhao," China's top information officer who has never been stumped by journalists, and even "China's ambassador to the world." Even at the age of 79, Zhao is still active in major events like important conferences and international forums. Following the development of China, Zhao has constantly changed roles and enjoyed a wonderful life.
Demonstrating Pudong to the World
Learning science to serve his country was Zhao's original dream. In 1958, Zhao's test scores helped him get admitted to the modern physics department of China University of Science and Technology to learn nuclear physics under famous physicists Zhao Zhongyao and Qian Sanqiang. After graduation in 1963, he was sent to work in the Second Ministry of Machinery and Industry. During his 21 years of scientific work, Zhao was once the youngest senior engineer in China's aerospace sector and won honors like Shanghai's "Excellent Worker" and "Model Worker."
In 1978, the Central Committee of the Communist Party of China (CPC) determined to introduce the reform and opening-up policy, a decision which totally changed Zhao's life. In 1984, Zhao assumed the position as Vice Party Secretary of Shanghai Industrial Working Committee. Since then, he successively served as deputy director and director of the Organization Department of the CPC Shanghai Municipal Committee, standing member of the CPC Shanghai Municipal Committee, Shanghai's vice mayor and head of the Administrative Committee of Pudong New Area, evolving from scientist into urban manager.
On April 18, 1990, the CPC Central Committee and China's State Council formally announced a decision to develop and open Shanghai's Pudong. According to Deng Xiaoping, chief architect of China's reform and opening up, the construction of Pudong, should, from the start, look to international metropolises as the benchmark. Zhao, then head of the Administrative Committee of Pudong New Area, proposed a slogan translated as "Think over the development of Pudong while standing beside a terrestrial globe." "I hoped to remind all Pudong officials of global vision, ideas and strategic view," explains Zhao.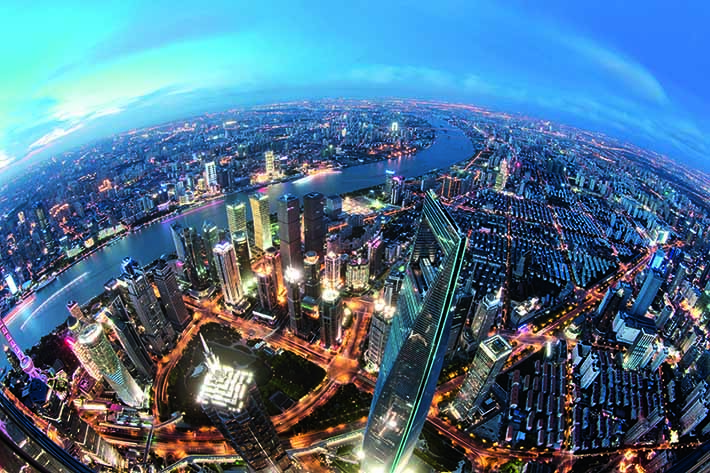 "When Pudong New Area had just been officially established in 1993, I talked about it with people both in China and abroad," recalls Zhao. "I realized that few people knew of Pudong or even knew where it was." He then decided that a key task was helping more people learn about the area. From that point on, he made himself a "salesman" of Pudong, frequently welcoming delegations from around China and the world and introducing the development plan and prospect of the new area.
With the further openness of Pudong, more and more Western politicians, entrepreneurs and scholars began to pay attention to it. In 1994 when former U.S. President George H.W. Bush visited Pudong, he said he would invest in Pudong if he were young enough after hearing Zhao's introduction. Former U.S. Secretary of State Henry Kissinger visited Pudong several times. "While several skyscrapers and high-tech factories were built in Pudong through cooperation with foreign countries, this was not the most important achievement," he declared. "The most important achievement was the public relations success which established trust with foreign investors—that was precious and worth consolidating."
Narrating China for the World
Pudong New Area has prospered. In August 1998, the 88-story Jin Mao Tower in Pudong's Lujiazui Financial and Trade Zone placed its capstone, becoming the highest building in Shanghai. The same year, Zhao became minister of the Publicity Department of the CPC Central Committee and the State Council Information Office, and his role shifted from introducing Pudong to the world to narrating China for the world. By then, thanks to its rapid economic growth, China had already entered the global spotlight. The international community was hungry for information about the country, which was often mixed with misinterpretations. Soon after he arrived at his new post, Zhao encountered a considerable challenge.
On May 25, 1999, the Report of the Select Committee on U.S. National Security and Military/Commercial Concerns with the People's Republic of China (commonly known as the Cox Report) accused China of "stealing" U.S.' military technologies involving missiles, nuclear bombs and satellites, posing a threat to the country's security, which caused a great uproar all over the world. Over the following two months, Zhao held two press conferences and factually refuted the report. The global media reported Zhao's speeches and his answers to questions from journalists. Consequently, worldwide public opinion was reversed as evidenced by The Times listing the Cox Report as one of that year's "top 10 scandals in the world."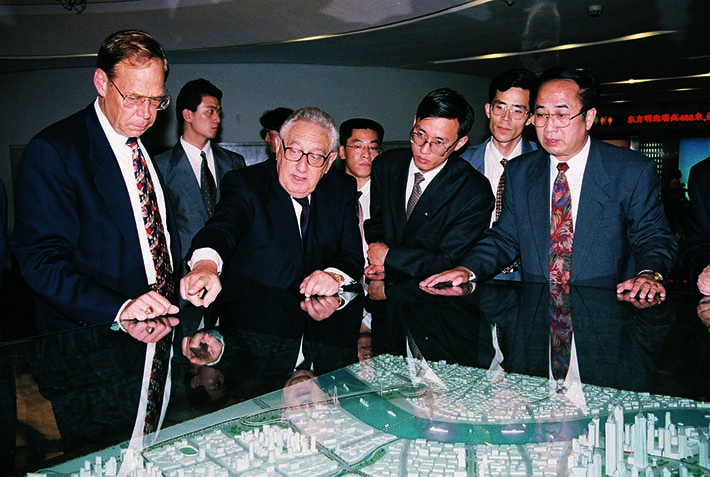 The Cox Report incident forced Zhao to be aware that many countries held misunderstandings about China largely because the country didn't release information in a timely manner. In 2003, he launched the first spokesperson training class which attracted more than 100 related personnel from 66 ministries and commissions. Over the following more than a dozen years, Zhao continuously promoted the establishment and improvement of China's official spokesperson system.
After serving as a spokesman for the Chinese government for over a decade, Zhao was dubbed "China's No.1 spokesperson." Hong Kong-based Ta Kung Pao called him a "prudent spokesman," "friendly public relations expert," "challenge-loving information officer," "tireless teacher" and "caring senior."
In 2005, Zhao left the State Council Information Office to serve as dean of the School of Journalism and Communication at Renmin University of China. And in 2008, he began to serve as director and spokesperson of the Foreign Affairs Committee of the National Committee of the Chinese People's Political Consultative Conference (CPPCC), the country's top advisory body. In the new position, Zhao still endeavored to "narrate China for the world."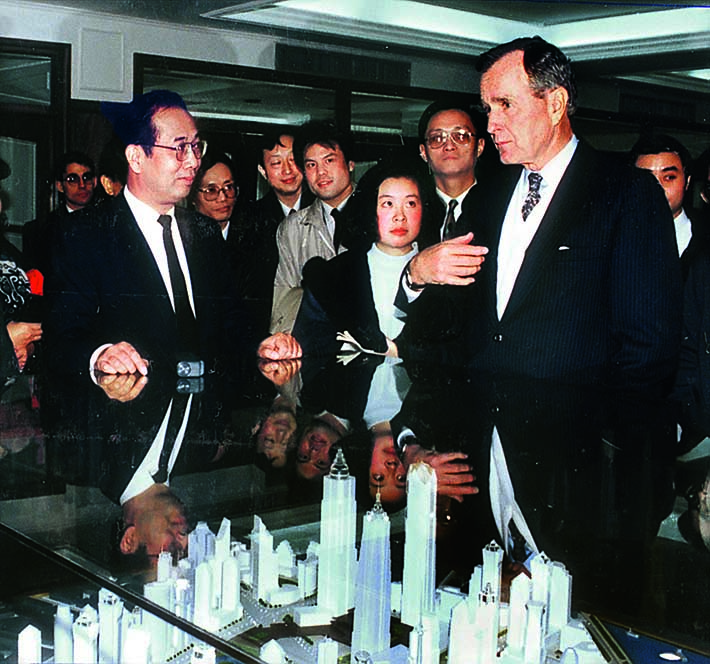 "Stories are closer to life and truth than theory," notes Zhao. He likes telling stories. He hopes true stories about China help the world understand the country and believes that a good story must be true first. "A true story can move you, and then you can move others," stresses Zhao. He believes that if the narration avoids all the problems China is facing, it will lose important plot arcs, leaving the story less attractive.
Since his retirement, Zhao frequently strolls around Pudong, a place to which he devoted so much painstaking effort and a landmark of China's development story. And the story continues.